Let me help you find the symbols and expressions
to create ritual moments that reflect your precious life.
This is sometimes easier said than done! How do we put sense and the sacred back into the passages of life? How do we create ceremonies, rituals or events to mark the important steps in our lives and genuinely reflect how we feel about them? How do we get the message across to those we care about and really involve them?
What can good ritual do for you? Ritual has power. It creates space and time to focus on the meaningful events in our lives. It joins individuals into a community that can acknowledge, honor and strengthen our deepest sense of humanity. The need for ritual makes us long for familiar forms that link us to the past and for new words that reflect who we are today and what we hope to become. Let A Rite to Remember shape ceremonies for you to nurture life and make language that echoes in memory, brings light to the present, and helps you to thrive through lean and plenty.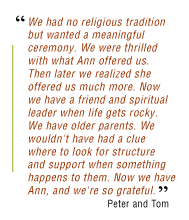 Ritual can help you define your lives and speak your hearts during time honored events: a wedding or a commitment ceremony, welcoming a newborn, remembering a life, coming of age or menarche. Allow it to help you restore the emotional and spiritual voice to life passages that have grown impoverished by purely secular celebrations: anniversaries, graduations, retirement, friendships, and blessing new homes.
Ritual can express the deeper meaning in all aspects of your modern life that deserve community celebration and support: starting school, career changes, separation or divorce, adoption, blending of families, a new journey, a return, a renewal of commitment. Why not celebrate your truly special life?
Three key ingredients for building good ritual:
Trust - let's build a working relationship where you'll feel safe and supported to explore the meaning, purpose and context of this important moment.
Personalization - together we can find the words and actions to capture the significance of the moment and explain it in ways that are comfortable and natural to you.
Integration - Make your dreams the center of your life and invite your family, friends and community to support you as you work to achieve your them.
You don't want a boring old ceremony that's been grabbed off the shelf, and yet you don't want something off the wall, either! The following ceremonies can help you create purpose, meaning and community. Let Ann Keeler Evans and A Rite to Remember create a ceremony that will guide your life and live in your hearts forever. Come, let us celebrate together!